Having pictures done does not happen every day …
Here's a guide available for my clients only, for you and your loved ones to look at your best!
---
Style Tips: For Her
Because you always want to remember this.
---
Don't Be Afraid to Dress It Up
---
Have you thought about rocking a romantic gown, tulle skirt or flower crown but just never had an occasion for it? This is your chance to do it up! Remember: There is no such thing as "too dressed up" when it comes to your portrait session, so don't be afraid to have some fun! If you don't want to add a new permanent piece to your collection, you can rent a dress or other clients love having a great excuse to bring a new permanent piece (or two!) into their closet!
If you want to keep it more casual, cotton and organic fabrics are the way to go. Ivory, mauve and other neutral colors or a soft lace are perfect to add a soft, romantic look to the images.
Say Yes to the Dress
---
Long, full-length, flowy dresses and skirts look amazing on camera because they bring extra movement to the photos. Especially when juxtaposed with nature, like the ocean, palm trees or beach. Consider softer fabrics like chiffon or tulle which allow for beautiful movement in the images.
Dresses and skirts look most stunning because they really flatter every female body, especially on camera — which is probably why the red carpet is always full of so many dresses and not very many pantsuits! I recommend avoiding pants and shorts for your session, and saying yes to a dress or two instead.
Choosing Colors
---
When choosing colors for your outfits, I recommend selecting softer, lighter tones and more muted shades. By avoiding ultra-bright, bold colors, it will help bring all the attention to your faces and let the eye focus on the way you feel about each other. The camera loves shades of soft pink and muted blues, mixed with sophisticated light neutrals like heather gray, creams, navy and white. That softer color palette fits beautifully into almost all natural outdoor environments and especially complements the beach.
Make a Statement
---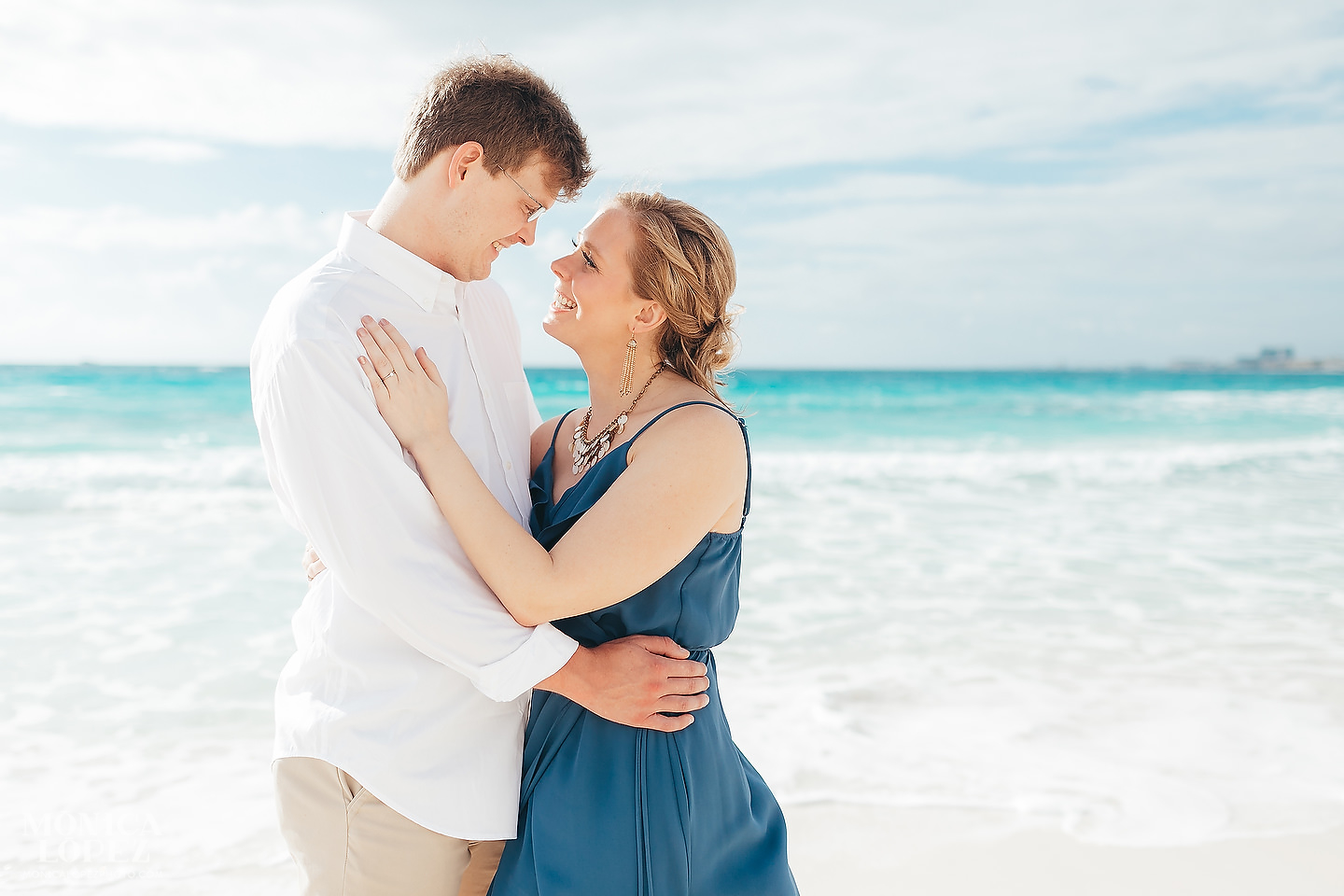 Pairing an accessory or two with your outfit can really help bring some extra dimension to your images, and be a nice tie-in when you're coordinating with a group. Big statement necklaces bring a lot of pop to the photos, while the smaller, delicate ones are not as noticeable on camera but are great for simple, clean looks. Belts, bracelets and earrings bring great visual interest, so choose one or two that don't compete for attention. Fresh florals in a crown can be a really romantic touch for you or your girls as well.
Go Pro: Hair & Makeup
---
Professional hair and makeup is on the top of most of my clients' checklists because it looks amazing on camera and removes the stress of getting ready on your own.This is the time to treat yourself! Whether it's lash extensions or blown-out hair, professional hair and makeup will give you an extra boost of confidence in front of the camera, and it always photographs like a dream. If you're working with a makeup artist, have her apply your makeup in natural light, if possible, so that it looks fresh and not too heavy. Plus, that's the type of light we'll be shooting in, so it'll give you the best expectation of how it will translate on camera. Most of my clients feel like their professional makeup is "too much" at first, so if you feel that way at the beginning, don't worry! Good makeup artists know how to get it all just right for the camera — and my clients always love the final result. If you need a recommendation for hair and makeup, I work with the best in the business and have a go-to team, just let me know!
Please keep in mind styling your hair down might not be a good idea – the beach can get windy (and we will need to work with the wind for your hair to look good, but this might not give us the best background) – or on the other side, if there's no breeze you can get extra hot because of the long hair (our humidity is always 75%+!) Half-do's, or a messy braids are a safe option for our beaches!
---
Clean Your Ring
Your ring hand will be featured in a lot of the photos, so if you have time before your session, I recommend getting your ring cleaned and treating yourself to a manicure.
---
Skip the Spray Tan
---
Although it might seem counter-intuitive, I recommend that you do not get a spray tan before your session, even a few days prior, because it tends to photograph orange even when it's applied subtly and by a professional. Your actual skin tone will photograph the most beautifully and naturally.

---
Fashion Tips: For Him
Because dapper and debonair never go out of style.
---
The Best Fit
---
Fitted dress pants/shorts work best on camera. Solid shades of gray or navy are a strong complement to most women's outfits, whereas pinstripes or plaid patterns tend to distract the eye. I also recommend staying away from graphics and logos.
Khaki shorts or pants are usually the perfect option for the beach, as it can be matched with light or dark colors!
It's All in the Details
---
Sunglasses, belts, vests and watches are sharp complements to any outfit for men and boys alike. If you bring two outfits to the session, you can start with a more formal outfit, then switch to something more casual for your second look. If two looks are too stressful, no problem! One will do the trick! You can still mix and match accessories to complement both of her dresses without doing a full change during the session. So, either way, it's a win.
How to Prep Your Man
---
Most men aren't overly excited to take photos for an hour when they could be drinking a beer by the beach, because they don't have an expectation of what's to come and why it's so important to you. Take fifteen minutes to educate and empower your guy. Tell him why you chose me and my style of photography. Show him your three favorite sessions that I've done, explain why you love them and express to him how much it means to you. Trust me, once he knows it's important, he'll light up the camera for you! The most common thing I hear from guys before photo sessions is this: because of a bad experience in the past, they don't like taking photos or don't think they'll be good at it. By the time I'm done, though, they can't believe how fast it went and just how much fun they had!
---
---
Coordination
As you're coordinating your outfit, keep in mind that your outfits will look the most cohesive on camera when the color palette and wardrobe pieces coordinate, but don't actually "match." In fact, I recommend that you avoid thinking about "matching," and instead think about what "fits" together. This will create more visual interest, and allow each personality to shine through.
How to Mix Colors
---
The goal for coordination is to visually break up the colors and shades so that you're not wearing the same color on top and bottom. The more we can mix that up, the better.
I encourage you to think about planning your outfits with "dominant colors" and "accent colors" in mind. A dominant color is the color that you see the most in an outfit, while an accent has a smaller piece of visual real estate. When you're planning for your outfit, if you can aim for each of you to have a different dominant color, and then tie in and vary the accent colors, it's going to look great all together.

For example, if you're wearing a blush dress, soft blue earrings and nude heels (blush being your dominant color), then he could wear a navy shirt with gray pants, paired with brown leather shoes (if we take some pictures in another location before hitting the beach) and maybe even a blush pocket square (making navy his dominant color). Now each person has their own dominant color while still incorporating a few touches of the others that will pull all the looks together. This will break up the color visually and highlight each personality. Most of my female clients choose their dress first, and then build the rest of their outfits based on that.

Remember, I recommend selecting those softer, lighter tones and avoiding those ultra-bright, bold colors. The camera loves shades of soft pink and muted blues, mixed with sophisticated light neutrals like heather gray, creams, navy and white. Feel free to vary the shades of the colors, too.That softer color palette fits beautifully into a natural environment, and can easily be paired in so many different ways.
---
Portrait Session Checklist
---
Set date, time and location with Monica
Review guide for style tips
Schedule hair, makeup and nail appointments
Choose your outfits
Pack a bag with:

Flats or flip-flops for walking between photo spots (we will be bare foot most of the time)
Second outfit (if you're doing two)
Touch-up makeup
Water bottle
Snack for little ones
If you have a toddler or younger, small eye-catching toys (or lollipops) to hold their attention.
---
Final Note
---
I know I just gave you A LOT to think about. I've created this guide to help make your portrait session experience something you'll look back fondly on for years and years to come. At the end of the day, though, the location you choose and the outfits you select won't matter nearly as much as the memories you make together. Your future memories are the most important thing to me, and I want your session to be a time for you to just be yourselves and enjoy it.
Have fun together. Laugh a lot. And I'll take care of the rest!
Need more? Click here for some more inspo for Couples!